Hi there...
Just popping in to show you the fruits of my labour, what I've got planned (for the next month... urgh), and to share my Friday Flower.
I had very good intentions this week, but I started it feeling sluggish and pretty much stuck with that feeling all week... I attempted to get something together for a mid-week post by whipping something up in the kitchen... but, then, I absentmindedly dished it up, and it was eaten before any photos were taken... it was delicious, so it gives me an excuse to make it again, and share it with all you lovelies at some point in the near future...
A selection of the doors... ohh, there are more...
Kitchen update: I did manage to undercoat the kitchen cabinets, but that's about it... it takes soooo long... I foolishly thought it was a weekend job..... nooooo... Anyhoo, a painter friend gave them the thumbs-up... he did the whole, looking at them in daylight, an inch from his nose (as though expecting a diamond), and declared them top notch! I have every intention of giving them a top coat this weekend. I even drew up this little time plan (lets see if I stick to it)...
... it's right over the kitchen sink (which I am chained to), so there's no excuses for not 'getting with the program'...
Anyhoo, as it's Friday I dutifully popped out in the torrential rain to pick up this week's Friday Flower... and, let me tell you, I'm sat here writing this tonight while it's raining cats and dogs and blowing a hooey outside... we're praying that all of the work done in the basement this past Fall will help us to not flood (prior to this, we would have had water to the top of our welly boots)... So, keep your fingers crossed for us... my dad said we should just invest in a dinghy...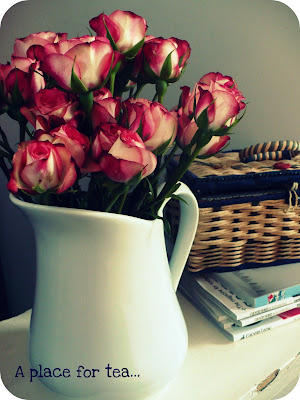 ... sorry to digress... Friday Flower... yes... My Friday flower is dedicated to the writer of the blog
Bibbity-Bob
... I have two daughters under 5, and so, hear 'bippity-bob' a lot in my house...well, actually, my youngest says 'zippity bar-bra'... nevertheless, it's a cool blog name (Bibbity-bob, not Zippity-bar-bra), and, you know what? It's a cool blog... she features crafts, home renovations, and (my favourite posts) eye candy and retail therapy from stores in Blighty... shops I so wish I could shop at... Pop over to her blog this weekend. I hope you love it as much as I do!
Anyways, I've kept you long enough (because I've missed chatting to you so much)... off you trot, have a super weekend and I'll catch you next week!
Lx
If you would like to join in with this week's Friday Flower, simply use the linky widget below to link to your flower post (new or old)... It's blooming marvelous!